BRJ Run and Tri has branded running vests and t-shirts, long sleeved base layers, cycling short sleeve jerseys, cycling shorts, cycling bib shorts and triathlon suits. These are all official club kit which are approved for competing as a BRJ Run and Tri member in UKA races or the Frostbite Friendly League.
We also offer a range of branded leisure wear. Items include over the head hoodies, zipped hoodies, fleeces, black tri and running logo t-shirts with short or long sleeves, yellow tri and running logo short sleeved t-shirts, rain jackets and beanies. Most items can be personalised with names or initials. The t-shirts are not official club kit and therefore not approved for races.
We hold a certain amount of club kit in stock for immediate sale, but we would encourage members to order their running and cycling kit when we announce an order is going to be made. This ensures we are meeting demand and are not holding large quantities of stock.
All payments need to be made to the BRJ KIT ACCOUNT before items will be ordered. Use your surname as the reference when paying into the account. Sort Code: 30-94-47; Account number: 50800168 (please note this is a different account than the main BRJ account – all kit payments MUST be made to this account).
Orders within the main order window will be delivered in approximately six weeks. If an item is ordered outside the order window, delivery will be made as soon as possible. Leisure wear takes about three weeks.
Please contact the email hidden; JavaScript is required (Anna Best) with any queries.
Size guide: Scimitar_Size_Guide
BRJ Running, Cycling & Tri kit
Running Vest
Women's (XXS-XXL): £24.00
Men's (XS-XL): £24.00
Junior/youth (unisex XS-L): £20.00
Cycling kit
Size guide .Scimitar_Size_Guide
Cycling Jersey
Women's (XXS-XXL): £39.00
Men's (XS-XL): £39.00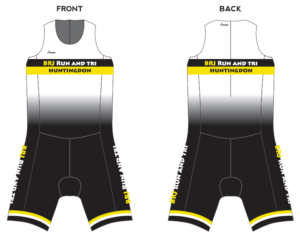 BRJ Leisurewear
Hoodies (Over the Head)
Adult  (unisex)  – XS, S, M, L, XL, XXL     £21.60
Youth (unisex) – Age 7-8, 9-10, 11-12, 13   £16.60
Youth sizes are all black without the yellow trimmings
Also available with 'Coach'  for qualified BRJ coaches
Zipped hoodies
Adult  (unisex)    –   S, M, L, XL, XXL   £20.20
Youth (unisex)   –   Age 7-8, 9-11, 12-14    £15.80
Youth sizes are all black without the yellow trimmings
Also available with 'Coach'  for qualified BRJ coaches
Fleece
Adult  (ladies)    –   6, 8, 10, 12 , 14, 16, 18  £25.20
(mens)   –   XS, S, M, L, XL, XXL  £25.20
Black running jacket with yellow stripe on arm
Adult  (unisex)   –  S, M, L, XL        £20.00
Black or yellow technical short-sleeved t-shirts (not club race kit)
with the 'foot' running logo on back
Adults (unisex)   –  XS, S, M, L, XL, XXL   £13.00
Youth (unisex)             –   Age 7-8, 9-10, 11-12, 13   £10.80
with the 'tri' logo on back
Adults (unisex)   –  XS, S, M, L, XL, XXL   £14.60
Youth (unisex)             –   Age 7-8, 9-10, 11-12, 13   £12.20
Also available with 'Coach'  for qualified BRJ coaches
Black technical long-sleeved t-shirts (not club race kit)
with the 'foot' running logo on back
Adults (unisex)   –  XS, S, M, L, XL, XXL   £14.60
Youth (unisex)             –   Age 7-8, 9-10, 11-12, 13   £12.20
with the 'tri' logo on back
Adults (unisex)   –  XS, S, M, L, XL, XXL   £16.00
Youth (unisex)             –   Age 7-8, 9-10, 11-12, 13   £13.40
Also available with 'Coach'  for qualified BRJ coaches
Black Beanie with 'foot' logo – £7.20
Yellow BRJ Swim Cap – £5.00
The following items are available immediately
BRJ Kit in stock now
Ladies
Mens
Youth
Item
Size
Quantity
Item
Size
Quantity
Item
Size
Quantity
T-shirt
XS
3
T-shirt
XS
5
T-shirt
XS
12
T-shirt
S
6
T-shirt
S
8
T-shirt
S
5
T-shirt
M
9
T-shirt
M
4
T-shirt
M
10
T-shirt
L
8
T-shirt
L
5
T-shirt
L
10
T-shirt
XL
4
T-shirt
XL
6
T-shirt
XXL
1
T-shirt
XXL
3
Vest
XS
5
Vest
XS
2
Vest
XS
7
Vest
S
5
Vest
S
6
Vest
S
9
Vest
M
9
Vest
M
9
Vest
M
7
Vest
L
8
Vest
L
7
Vest
L
8
Vest
XL
6
Vest
XL
6
Vest
XXL
3
Vest
XXL
2
Baselayer
XS
2
Baselayer
XS
Baselayer
S
3
Baselayer
S
4
Baselayer
M
3
Baselayer
M
3
Baselayer
L
3
Baselayer
L
1
Baselayer
XL
1
Baselayer
XL
Baselayer
XXL
1
Cycling Shorts
L
1
Swim cap
One size
34