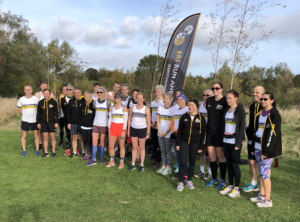 Running Championships
It is proposed to re-launch the Senior and Junior running championships in 2022.
Rules
The rules are listed on the website and are the same for the Senior and Junior running championships. In summary;
The Running Championships are over a 12 month period commencing on the 1st January and Individuals must complete four events from a list of "nominated" events. An individual's final score is calculated using the total of their best three age and gender graded scores. Age categories are determined by the members age on 1st January.
Senior Age Category Awards
Male/ Female;  U20, 20-34, 35-39, 40-44, 45-49, 50-54,55-59,60- 64, 65+
Overall Champion Male- Tony Cotton Shield, Female Esther Cotton Shield
Junior Age Categories Awards
Boy/Girl; U9/U11/U13/U15/U17
Overall Champion; Boy Andy Matson Award, Girl Marj Barr Award
Provisional Nominated Events
The list of nominated events will continue to be updated as races and dates are confirmed.
Provisional Nominated Events 2022 Senior
Date 2022
Event
16th January 2022
Frostbite 5M March
27th February
Tarpley 20 or Tarpley 10 (Bury St Edmunds)
19th March 2022
Huntingdon 5K Parkrun
 6th March 2022
Cambridge Half Marathon
3rd April 2022
Thorney Keith Hall Memorial 10K
8th May 2022
Eye 10k
12th June 2022
Sublime Peterborough Midsummer 10K
July
Peterborough Grand Prix Series 5k TBC
13th August 2022
Huntingdon 5K parkrun
September
Track 3K BRJ event
October
Fen 10 date TBC
November
St Neots Half Marathon TBC
31st December
Sublime Peterborough New Years Eve 10k or Ely New Years Eve 10K
1st January to 31st December2022
Any full marathon UK or overseas.
Note Only 1 (one) marathon will count towards the final score
Provisional List of Nominated Events 2022 Juniors
Date 2022
Event
16th January 2022

Junior Frostbite 1.5 Mile March
February
19th March 2022 or 20th March
Huntingdon 5Kparkrun  or

Jubilee Junior 2K Parkrun

April
Track 1 mile BRJ Event
8th May2022
Eye 3k Fun Run
June
Hinchingbrooke Park 3k BRJ Event
July
Peterborough Grand Prix Series 3K TBC
13th August 2022 or

14th August

Huntingdon 5K parkrun or

Jubilee Junior 2KParkrun

September
Track 3k BRJ Event
October
November
December